Location and Parking
Location
The Clinic is located on the south-east corner of the Deer Lodge Complex which is in Sunny St. James. Although it is right on Portage Avenue the address is 200 Woodlawn Street.
For those less familiar with this part of Winnipeg, it is west of Polo Park and east of the Grace Hospital.
You will find it traveling west on Portage Avenue located just past the walk bridge across the Assiniboine River from Assiniboine Park.
For those coming from a south west direction it is east of the Charleswood Bridge.
The entrance to the clinic is off Woodlawn at the north end of the building.
Parking
Two hour parking on the streets can usually be found within 2-3 blocks of the clinic.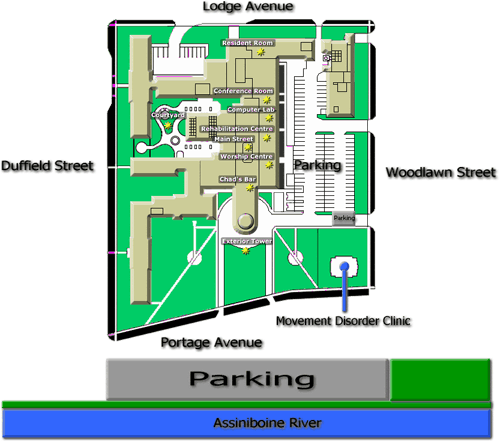 Deer Lodge parking lots are located across Portage Avenue from the clinic along the Assiniboine River and as well, north of the clinic. The parking fee for these lots must be paid inside the main Deer Lodge building.
There are two free parking spots (one handicapped) immediately north of the clinic.
If you need further directions call us at 204-940-8400.