History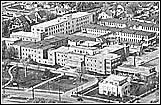 This heritage building (so designated in 1987) is located on the south-east corner of Deer Lodge Centre grounds. It was originally built in 1931 to honour soldiers of the First World War. The original funds were provided by the women of Manitoba – hence the name "Women's Tribute Memorial Lodge" engraved on the front of the building facing Portage Avenue.
The original design was done by Winnipeg architects George W. Northwood and Cyril W. U. Chivers.
The main floor had billiard tables and a kitchenette and lounge. At the top of the stairwell on the second level was a memorial "Room of Silence". This memorial has since been moved to the north end of the main hallway of the Lodge Building across from the elevators.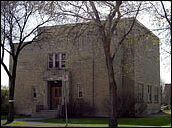 The building still contains the oldest known wheelchair ramp in Manitoba. This allowed veterans confined to wheelchair to be brought from ground level up to the second floor auditorium. The auditorium contained a stage complete with oak flooring and a row of floodlights at the front of the stage.
The last time the stage was used was during the filming of a movie scene with Patrick Swazye. The second floor was something to behold with its 18 foot ceilings and large windows above, on three sides, bringing incredible amounts of natural lighting into the space.
Its last occupant was the Valour Road Legion. Unfortunately the usefulness of the building relative to the cost of maintaining it became questionable and it had remianed vacant with the heat and water having been turned off since 1986.
After receiving a proposal from Doug Hobson, a Winnipeg Neurologist, to develop a multidisciplinary clinic to care for patient's with movement disorders in 2002, a new role for the building became evident.
The Winnipeg Regional Health Authority together with a major fund raising commitment from the Deer Lodge Foundation, and support from the federal and provincial governments proceeded into the planning phase. Cohlmeyer Architects, of Winnipeg, oversaw the design of the refurbished interior space and the north expansion of the building, to provide the increased square footage needed to develop waiting room space on the two clinic floors. Unfortunately the angle of the wheel chair ramp no longer meets code and therefore can't be used for patients. As a result the bulding now contains its first elevator.
The clinic was opened to Movement Disorder patients for the first time on July 31st 2006. The official opening was scheduled on September 14th 2006.