DLC News and Updates
Scroll for centre-wide news and updates.
---
National Day for Truth and Reconciliation
September 30, 2022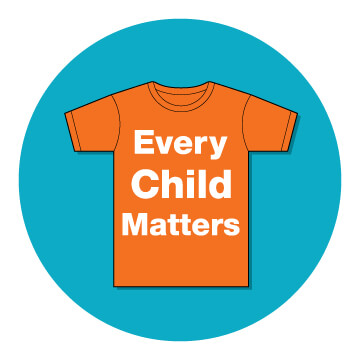 National Day for Truth & Reconciliation
Everyone is encouraged to wear orange in recognition of National Day for Truth & Reconciliation on September 30th. Deer Lodge Centre is located and provides health services on original lands of Anishinaabeg, Cree, Oji-Cree, Dakota, and Dene Peoples, and on the homeland of the Métis Nation. As part of our ongoing commitment to reconciliation and improving health care experiences and services for Indigenous patients, their families and communities, it's important that we bear witness to and honour the victims and survivors of residential schools, as well as reflect on the ongoing impact of the lived experience and shared history of residential schools on Indigenous peoples.
Why an orange shirt?
The symbol of the orange shirt was inspired by IRS survivor Phyllis Webstad. She was sent to residential school in BC when she was just six years old. On her first day of school, she proudly wore a bright orange shirt that she had chosen herself. But when she arrived, her shirt was taken from her, never to be returned. Now, every September 30 we honour Phyllis and all Survivors by wearing an orange shirt. Orange Shirt Day provides us the opportunity to raise awareness and have honest and meaningful discussions about the intergenerational effects of the Indian residential school system.
What else can I do?
Watch online events hosted by National Centre for Truth and Reconciliation. September 27 – Oct 1 there are daily educational events open to the general public for viewing on You Tube.
Read books by Indigenous Authors
Review the 94 Truth and Reconciliation Calls to Actions and commit to at least one You can also find the reports from the Truth and Reconciliation Centre https://nctr.ca/records/reports/#trc-reports
---
DLC Auxiliary Gift Shop News
August 2, 2022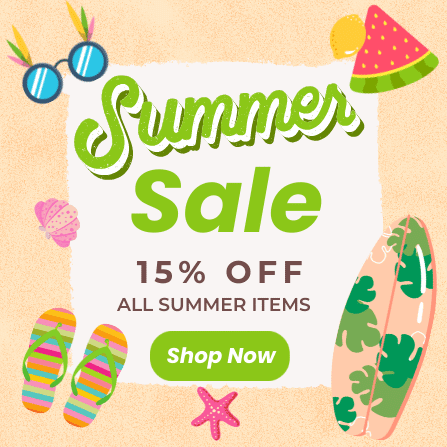 SUMMER SALE ON NOW!
A variety of beautiful dresses, active wear, purses, bags, unique garden decor, home decor marked down.
Gift Shop Hours
Monday – Saturday 12:00pm – 4:00pm.
Thank you for supporting the DLC Auxiliary
---

The DLC Bulletin is a newsletter that will be sent out from time to time to our subscriber list. You can subscribe by going to our to the TOP OF OUR FRONT PAGE and entering your email address. Once subscribed you will get The Bulletin and other news and updates right to your inbox.
---
Introducing the DLC Pride Team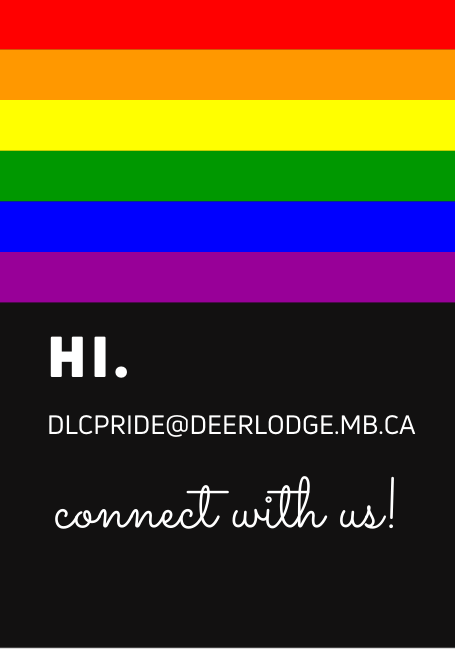 DLC is an organization that celebrates diversity. Members of the LGBT2SQ+ community are an important part of Deer Lodge Centre. Its members include our colleagues, our residents, our clients, our patients and our families. We are proud of the contributions they – and you – make to who we are.
Respect and compassion for all, continuous improvement to care and commitment to learning are some of the ways that we are dedicated to making Deer Lodge Centre an environment that is accessible, safe and equitable for marginalized groups, including the LGBT2SQ+ community. We also recognize and celebrate the strength and important contributions that members of the LGBT2SQ+ community make to our healthcare system every day. Look for further information from the DLC Pride Team in the future as we bring forward ideas to improve inclusivity for the LGBT2SQ+ community of patients, residents, staff, and visitors at Deer Lodge Centre.
---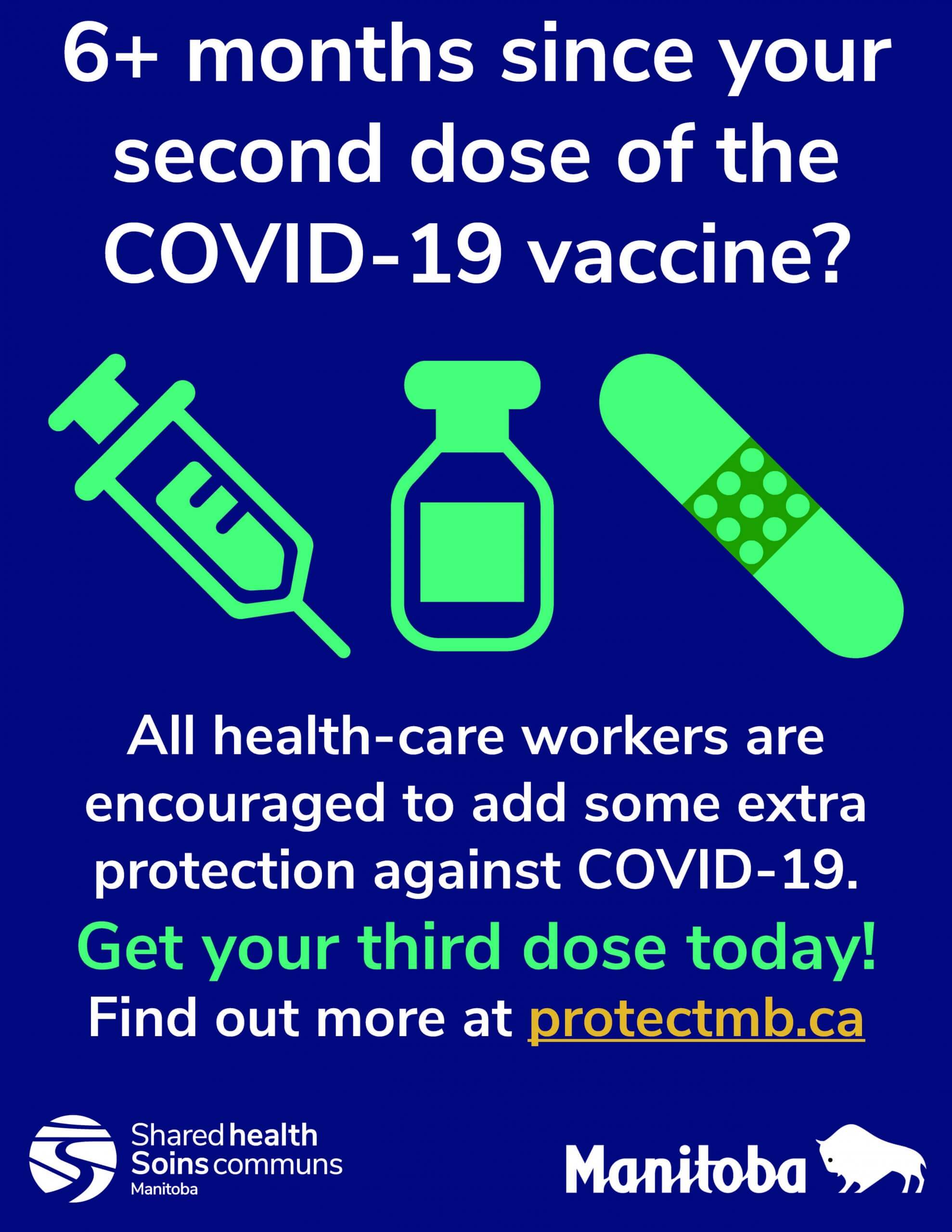 ---
Tower Building Water Damage
October 13, 2021
Last week there was a water line failure on Tower 6 that caused water damage on Tower 5 and Tower 4. The damage required us to relocate several residents to other rooms in the centre for safety reasons and while repairs are completed. A total of 6 rooms have been closed and Facility Management staff are in the process of making the required repairs. We are not sure how long these rooms will be closed but will provide updates to affected Residents and their families on the progress.
The water line failure occurred after hours and all staff on site were very quick to respond to minimize risk to patients and residents as well as minimize damage to the building. Thank you for your patience and understanding as we work to make the necessary repairs.
---
Special Needs (SNU) Beds on Tower 5
October 5, 2021
In the Winnipeg Health Region, there is an urgent need for additional SNU beds to support people living with dementia that are waiting in hospital. These individuals have care needs that cannot be safely provided in a general Personal Care Home. DLC has been successful in the past in creating a temporary 10-bed SNU on Tower 6. Because of this success, DLC has proposed to create a 10-bed SNU once again but on Tower 5. Tower 6 is currently empty and planning is underway to move Residents from Tower 7 (SNU) to Tower 6 while Tower 7 undergoes some much-needed renovations.
---
The DLC Bulletin is a newsletter that will be sent out from time to time to our subscriber list. You can subscribe by going to our to the TOP OF OUR FRONT PAGE and entering your email address. Once subscribed you will get The Bulletin and other news and updates right to your inbox.
---
It's Accreditation Time!
August 30, 2021
Accreditation Canada Surveyors will be visiting DLC on September 28, 2021. Three surveyors on site and will be seeking to speak to some residents, patients and families and will be focusing in on Chronic Care, Infection Prevention and Control, Emergency Preparedness and Medication Management practices.
This is an excellent opportunity for us to showcase all that we have to offer. The benefits of being an accredited facility are many – it demonstrates that our programs and services meet or exceed the standards developed by experts, it helps us attract and retain skilled employees and assures patients, residents and families that we provide high quality care.
---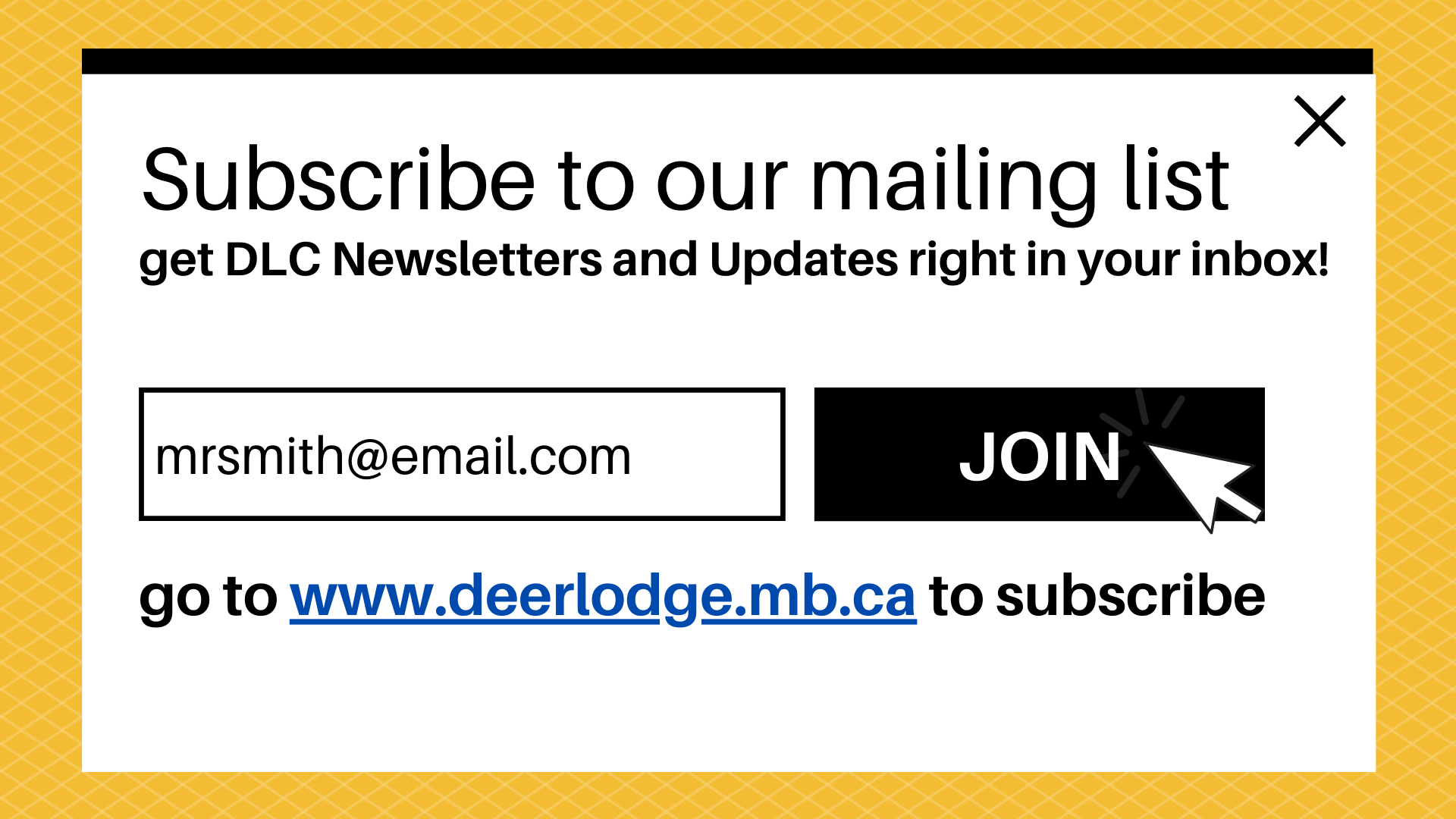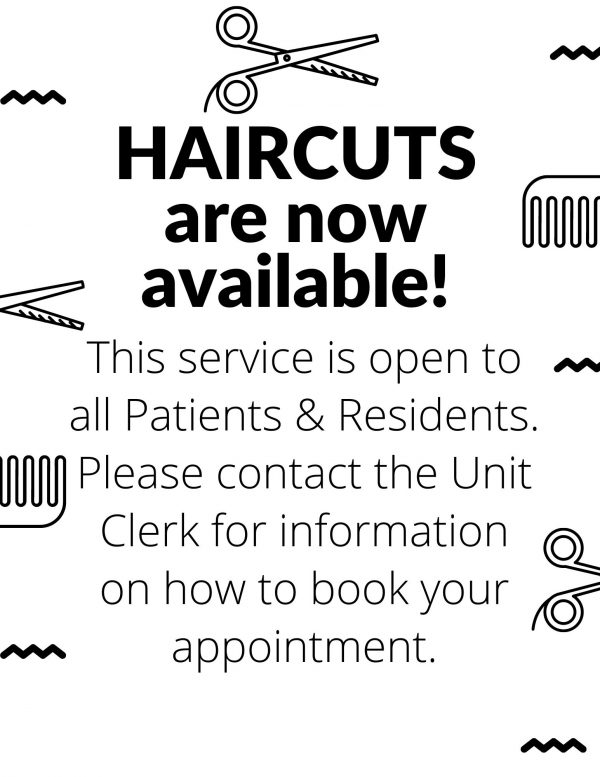 ---
DLC Pharmacy Team Wins Innovative Practice Award
June 9, 2021
Congratulations to Deer Lodge Centre pharmacists Dieu Huynh, Jackie Jobin, Alanna McNaught, Grazia Prochazka, Wendy Simoens and Pat Honcharik on winning the Innovative Practice Award from the Canadian Society of Hospital Pharmacists (Manitoba Branch).
The team won the award in recognition of their project, "Implementation of Interdisciplinary Medications Reviews on Chronic Care Units at DLC", which implemented medication reviews to address the complex medication needs of DLC's chronic care unit patients.
As Pat Honcharik, Regional Pharmacy Manager with the WRHA Pharmacy Program, explains, "Those that work in chronic care know the complex medical issues, medication regimes and care needs that exist for these patients is multifaceted. Recognizing a need for a more formalized process for on-going management of these individuals, this project was endorsed by both prescribers and nursing staff. The reviews are being completed every three to six months, or as determined by the prescriber, and have been met with much success. Regular medication reviews help to maintain the very best quality of life possible for our chronic care patients and have led to fewer adverse reactions due to medications. This in turn reduces healthcare costs and transfers to acute care."
Please join us in congratulating the pharmacists at DLC on their well-deserved award. To read more about the DLC pharmacy team, and a number of other CSHP award winners, click here to see the most recent edition of the CSHP's Pharmashare newsletter.
---
COVID-19 Vaccine
January 26, 2021
Everyone at Deer Lodge Centre was very excited to roll-out the first round of COVID-19 immunizations of Personal Care Home Residents and Chronic Care Patients on January 26, 2021!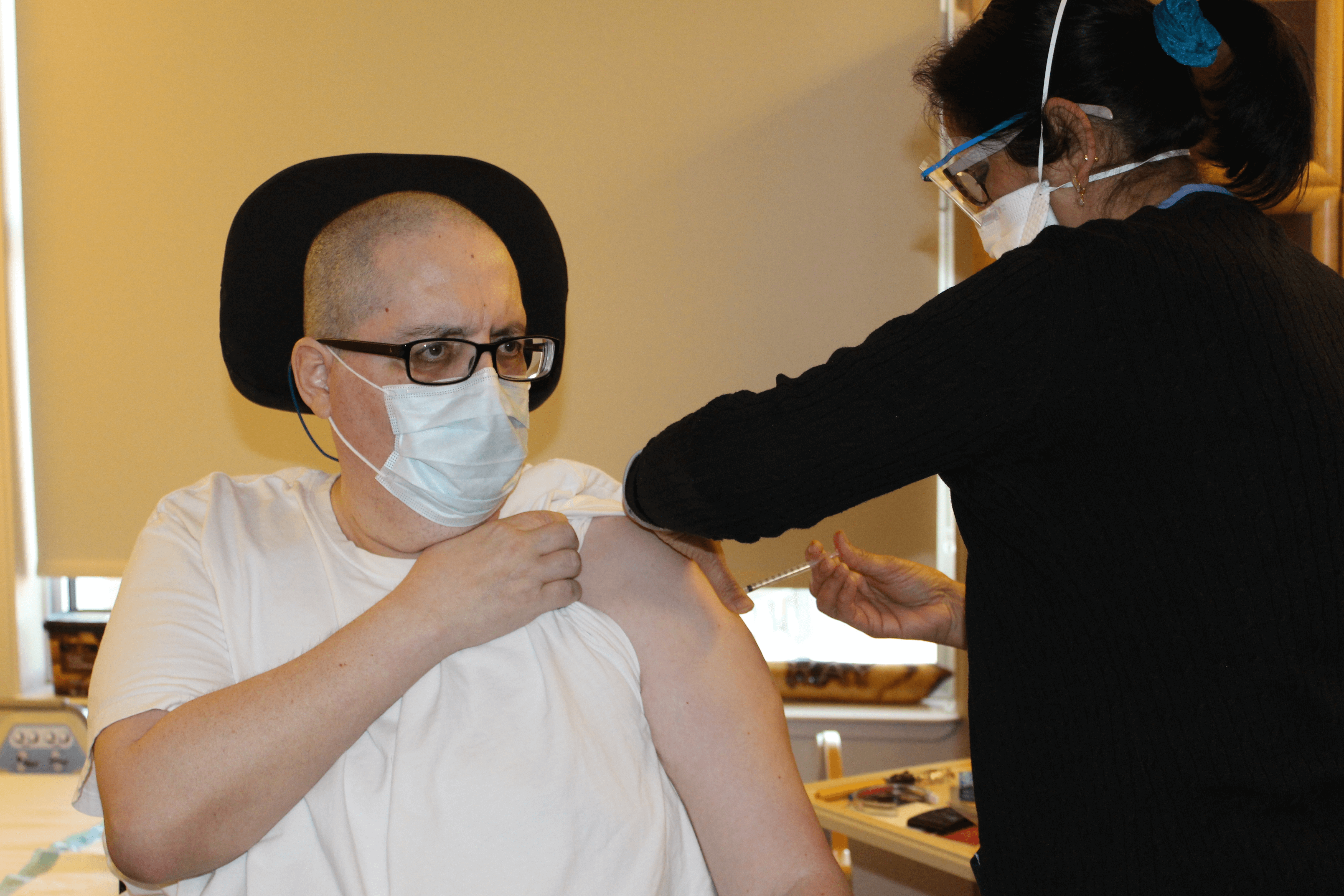 The second dose of the vaccine is set to be provided beginning February 17, 2021. If you have any questions or concerns, please read the factsheets posted below or contact your unit Manager or Clinical Resource Nurse.
Please check the Province of Manitoba COVID-19 Vaccine Website for the most up to date information about the vaccine and other plans for immunization of Manitobans.
COVID-19 Vaccines Public Health Factsheet
COVID-19 Vaccine Adverse Reactions Factsheet
---
Medisystems Medication Distribution System Update – Personal Care Home Units
December 1, 2020
Riverview Health Centre, Deer Lodge Centre and the WRHA's Pharmacy Program determined earlier this year that the medication distribution system for residents in all licensed personal care home beds in those two facilities would be changing, to align with the standard of pharmacy services in place for PCH beds across Manitoba. The previous medication distribution model at these sites did not align with the majority of PCH beds provincially.
As a result, PCH beds at Riverview Health Centre (on Dec 1) and PCH beds at Deer Lodge Centre (on Dec 3) will convert to a multi-dose pouch packaging, external pharmacy provider. All other PCHs in Winnipeg already receive their pharmacy services through this provider. This planned change is aligned with the preferred drug distribution model for the long-term care population in Manitoba. The model is designed to reduce nurse medication pass time and improve medication safety.
In 2018, the majority of PCHs in the province transitioned to a multi-dose pouch packaging service. Once the change has been implemented at DLC and RHC, all Winnipeg PCHs will have transitioned to this standardized model for drug distribution.
There will be no disruption of pharmacy services to residents during this transition. The on-site pharmacies at both DLC and RHC will remain open, and will continue to provide service to the non-PCH beds at each facility. The change affects only their PCH beds.
Coverage of residents' medications will be transitioned to the Provincial PCH Drug Benefit List, which is consistent with the medication coverage in the other personal care homes in Manitoba. In preparation, residents currently prescribed products where coverage will change during the transition have been identified. The health care teams at RHC and DLC have had conversations with residents and/or their families to discuss these changes and their options, such as alternative treatments, private insurance or personal payment.
Some prescription medications require special application for exception drug status (EDS) with Manitoba Pharmacare. Prescribers and pharmacists at RHC and DLC are currently working on submitting these applications.
Herbal products were reviewed as per the WRHA policy Use of Natural Health Products by Residents in PCH/LTC. Personal care/hygiene items – including things like over-the-counter medications and select creams and ointments – are provided based on the Manitoba Health Insured and Non-Insured Personal Care Services for PCH Residents policy and supply of some items will be transitioned to site Materials Management departments. This pharmacy transition has provided the opportunity to align medication coverage with these provincial and regional policies to provide equity across the province with respect to medication coverage for PCH residents.
---
New Drug Distribution System – PCH Units
November 19, 2020
Deer Lodge Centre will be updating the drug distribution system for our Personal Care Home Units. We will be transitioning to a multi-dose pouch packaging system, which is the preferred drug distribution model for long term care. Multi-dose pouch packaging is the standard of pharmacy services in place for the majority of PCH's across Manitoba.
As a result, starting December 3, 2020, PCH residents at Deer Lodge Centre will receive their medications from Medisystems Pharmacy, a specialized division of Shoppers Drug Mart. If changes to your family member's medications are required, you will be contacted prior to December 3rd. Otherwise your family member will continue to receive their medications as per usual.
If you have any questions or concerns, please speak to the Unit Manager.