Visitation Guidelines for General Visitors
We are pleased to announce that beginning March 29, 2021, family and friends of Personal Care Home and Chronic Care Residents can schedule a visit in our new Indoor Visitation Centre (IVC).  These friends and family members, considered "General Visitors", can schedule their visit by calling the Patient & Resident Inquiries Hotline at 204-833-1760 and select the Indoor Visitation Centre option. This line will open on Thurs. March 25, 2021.  Please consider the following information prior to booking your appointment and while you prepare for your visit. 
DLC will be screening all visitors for COVID-19 prior to each visit. This includes assessing for symptoms, recent travel or known exposure to COVID-19.
Visitors will not be permitted if they have any cold/flu or other COVID-19 symptoms.
All visitors must clean their hands, wear a medical mask (provided by Deer Lodge Centre) and maintain physical distancing (6 feet/2 meters apart) at all times.
General Visits are not permitted outside of the IVC given the increased risk to patients and residents.
General Visits could be cancelled if there is an outbreak at the Centre or if there are care concerns that arise. We appreciate your patience and will do our best to give as much notice as possible if visits should be cancelled.
---
Let us answer your questions…
We're sure you have questions. We want your visit in the Indoor Visitation Centre (IVC) to be an enjoyable one and we've tried to answer any questions you may have below:
---
What is the difference between a "Designated Visitor" and a "General Visitor"
A Designated Visitor is a person identified by a patient, resident or substitute decision-maker. Designated Visitors may safely visit a specific patient/ resident at DLC both indoors and outdoors or in the patient/ resident's room. Each unit has a list of Designated Visitors for each patient/ resident. The number of Designated Visitors allowed on the list for each patient/ resident is currently two.
A General Visitor is anyone who does not meet the criteria outlined above but would like to visit a resident at DLC in the Indoor Visitation Centre (IVC). Designated Visitors of Personal Care Home or Chronic Care Residents can also schedule a General Visit in the IVC.
My loved one is staying on one of the Geriatric Rehabilitation Units (Lodge 2 or 4). Can I book a General Visit?
At this time, General Visits in the Indoor Visitation Centre are for those who call Deer Lodge Centre their home (Personal Care Home and Chronic Care patients/ residents).
Patients receiving care on Geriatric Rehabilitation Units are here for a short stay and therefore visitation is limited to two Designated Visitors.  For more information, please go to the Visitation Guidelines for Designated Visitors page.
How do I book my visit?
General Visits in the IVC can be scheduled by calling the Patient & Resident Inquiries Hotline at 204-833-1760 and selecting the Indoor Visitation Centre option. Messages left of this line will be returned Monday – Friday 9:00am – 1:00pm.
General Visitors will be asked to provide their name, the name of the resident they are visiting and contact phone number.
Please arrive 5-10 minutes prior to your visit to ensure your visit can start on time.
Due to limited space in the Visitor Screening area, please be prepared to wait outside for a short time prior to your visit.
How many people can visit a resident in the IVC at one time?
We are currently limiting the number of General Visitors to one at a time. General Visitors may bring a minor child with them to the visit. All minor children must be accompanied by an adult.
How long can I visit for?
All General Visits will be scheduled in 20-minute blocks to ensure that everyone has the opportunity to visit. This will also provide enough time for proper cleaning in between each visit. These visitation block times may increase in the future depending on the number of people seeking appointments.
When is the IVC open and how often can I visit?
Currently our visitation hours will be 1:00-4:30pm, 7 days per week. Each General Visitor can schedule one visit per week. We hope to increase visiting hours and the number of General Visits per week per person in the near future.
Where can I park?
General Visitors can use the Visitor Parking Lot located on the east side of the building at a fee. There is also free 1-hour street parking available around the Centre. General Visitors can pay for parking at the kiosk located just inside the Portage Avenue entrance or by credit card when exiting the parking lot.
Visitor Parking Rates (all prices include GST):
| | |
| --- | --- |
| First 15 Minutes | Free |
| First Hour | $2.00 |
| Each Additional Hour | $1.25 |
| Daily Maximum | $7.00 |
| Lost Ticket | $7.00 |
| VISITOR Monthly Pass | $40.00 |
Where is the Indoor Visitation Centre (IVC)?
The General Visitor entrance to the General Visitation Centre is located just to the left (west) of the Portage Avenue entrance to Deer Lodge Centre. There will be signs in place and our friendly staff will be happy to help point you in the right direction.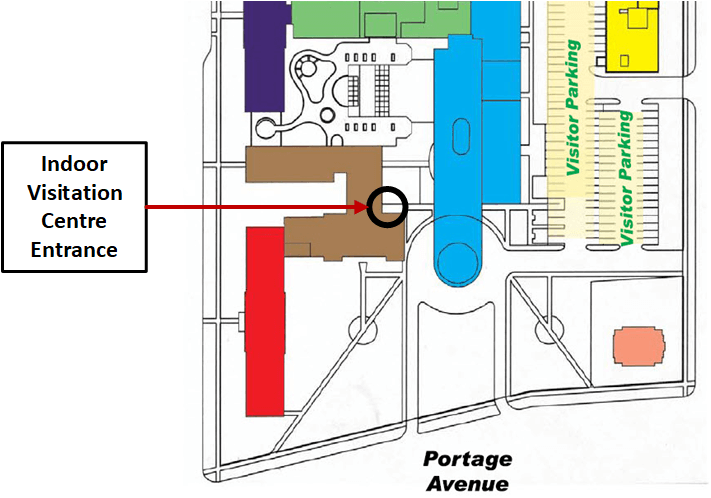 Will I need to wear a mask while visiting?
Yes. General Visitors should arrive with a mask on and we will provide a medical mask to change into along with instructions on how to properly clean your hands and how to put the mask on. Masks must remain on for the entire visit. Residents will also wear a mask if they are able. Please leave your medical mask on and take it with you when your visit is over.
What can I expect when I arrive at the Indoor Visitation Centre:
When you arrive, you will be greeted by our Visitor Screener who will ask you a series of COVID-19 related questions. The Visitor Screener will direct you to an area where you will clean your hands and put on a medical mask.
The Visitor Screener will then direct you to one of the (3) General Visiting rooms when it is available. These rooms offer the General Visitor and the resident privacy while visiting but will still allow the Visitor Screener to monitor for safety through the glass doors.
The Visitor Screener will advise you when your visit time has come to an end. Please leave your medical mask on and take it with you when you leave.
Who do I call to cancel my visit?
To cancel your visit Monday to Friday 9:00am – 1:00pm, please call the Patient and Resident Inquiries Hotline at 204-833-1760 and select the Indoor Visitation Centre Option.
To cancel your visit outside of the hours above, please call the Deer Lodge Centre switchboard operator at 204-837-1301 and ask to be connected to the patient/ resident nursing station.
Can I bring food, drinks or gifts with me to the visit?
Because masks must be worn for the entire visit, food and drinks will not be allowed. Gifts for patients and residents can be left with Visitor Screener who will ensure it is received by the Resident.
Will there be access to washroom facilities during the visit?
No. General Visitors are asked to please use the washroom prior to their visit.
Can I visit with my relative in the smoking area?
DLC has a designated smoking area reserved for Patients and Residents only. Visitors cannot visit with Patients / Residents in the designated smoking area.
Can I bring my pet?
At this time, pets are restricted from visiting inside at Deer Lodge Centre. This restriction does not apply to Service Animals.
Who do I contact if I have concerns or questions about my loved one?
If Patients, Residents or Family Members have questions regarding care that can't be answered by the health care team, please contact the Manager of Patient/ Resident Care. If you have further concerns after your discussion with the Patient/ Resident Care Manager, you may also contact our Client Relations Coordinator at 204-831-2963 or email us at info@deerlodge.mb.ca.
Communication with family and friends is essential to patient and resident well-being so please continue to:
Connect by phone or video chat.   
Send electronic letters to a patient or resident via our "Well Wishes" page.
Schedule Virtual Visits through our Family Connect Program. The DLC Family Connect Program has been put in place for those of our patients and residents who do not have access to technology to have scheduled virtual visits (i.e. video chats) with loved ones.
Protecting the health and well-being of your loved ones and staff remains one of our top priorities. Thank you for your cooperation and understanding as we implement visitation guidelines to ensure visits are safe and enjoyable for everyone. Please call the Patient & Resident Inquires Hotline at 204-833-1760 for more information or Client Relations at 204-831-2963.